Verified Views
–
Visual Impact Assessments, also know as Accurate Visual Representations (AVRs) or Verified View Montages (VVMs), are an essential part of any planning application. Sanders Studios employ accurate and concise methodologies which comply with the relevant framework guidelines.
Working closely with Townscape Consultants, numerous viewpoint locations are identified of which will showcase a visual assessment of the proposed development. Each location is photographed and surveyed rigorously, allowing for extensive data collection in aiding the production of the Accurate Visual Representations.
With the combined degree of accuracy and image production flair of Sanders Studios, the result is a high-end, photo-real montage which speaks volumes through quality and craft.
Take a look below to check out our detailed approach and process.
Project Type
Verified Views | AVRs
Location
Royal Docks, London
Deliverables
Photography | Survey | Verified Views | Methodology
Implementation
Planning Application
AVR Classification
–
The London View Management Framework identifies 4 types of AVR. These are represented in the following examples: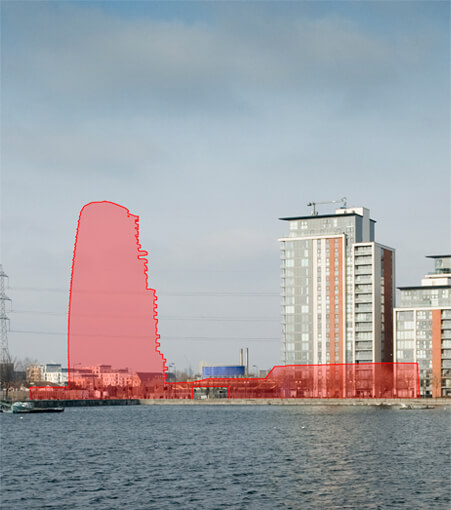 AVR Level 0
Location and size of proposal.
AVR Level 1
Location, size and degree of visibility of proposal.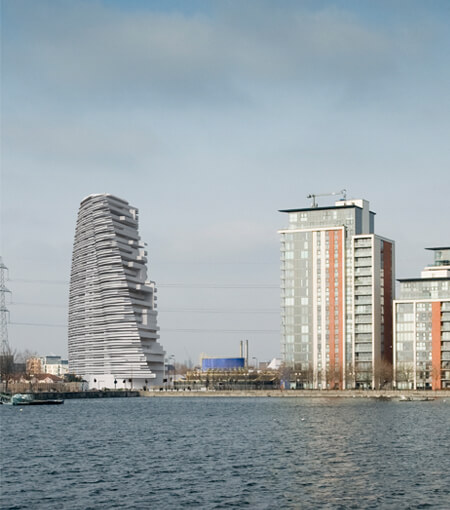 AVR Level 2
As level 1 plus description of Architectural Form.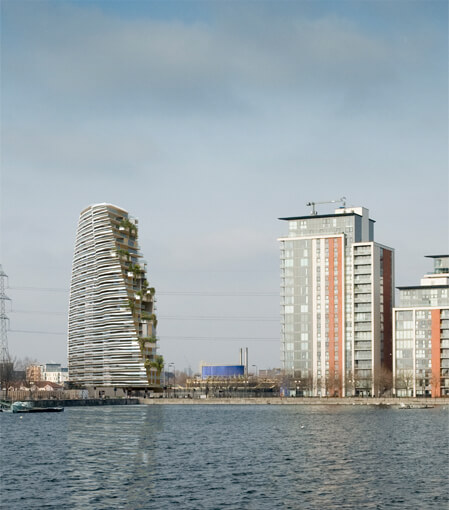 AVR Level 3
As level 2 plus use of materials.
Methodology
–
With shot locations identified via an initial recce shoot or 3D massing model, high-resolution photography can be obtained alongside the necessary survey data collection.
Each shot location is marked and GPS data recorded (Fig. 01). Using numerous satellite networks, the data recorded is of pin point accuracy. The photography itself is captured with a high-end Digital SLR camera at the required lens lengths suitable for verification. Surveyed reference points of neighboring buildings and/or landmarks are recorded (Fig. 02 & Fig. 03). These points align with the National Grid. An Ordinance Survey map is used to locate and align the site with the recorded reference points, ensuring the 3D model is correctly located and an accurate camera match is achieved.
A full methodology document is supplied alongside the high quality visualisations for planning support. This outlines the process by which the Verified Views were created, along with all other vital information, thus creating a watertight planning package.

Verified Process Outlined
–
Brief –
Number of requested AVRs are outlined. View locations are typically selected by the local authorities for purposed of visual impact assessment.
Photography –
Dependent on clarity of viewpoint locations, a recce shoot may be required. A selection of varied focal lengths and standpoints are captured. Once sign off on draft photography is received, high-resolution photography is capture with each shot location clearly marked.
Survey –
The survey team will capture GPS location data for each viewpoint. A range of reference points on neighbouring buildings/landmarks are captured.
3D Model –
With the aid of supplied architectural CAD drawings and an OS Map proposed material schedule, a fully textured 3D model is created. Draft renders for architectural approval are supplied.
Camera Matching –
Collected survey data is imported ito the 3D space in accordance with the National Grid. Virtual cameras are positioned in line with recorded GPS data. Focal lengths etc. are aligned with relevant photography.
Lighting/Rendering –
Each viewpoint is lit independently based on the time of photography capture so that shadows fall accurately. Each view is then rendered at high-resolution in line with photography.
Montage/Post-Production –
The rendered output is composited into context photography. Masking of any elements occluding the proposed scheme is tackled. Enhancements to the raw render are then carried out, such as advanced glass reflections, texture and colour grading.
Methodology Document –
Before and after views for each are provided in detail. Exact locations, camera data, survey reference points and outline of process is documented.
The Result
–
A series of highly accurate, verifiable, photorealistic camera matches and accompanying documentation to slot perfectly into any planning application.